What Is Microsoft Sales Copilot & What Does It Do?
As the world continues to adopt AI-driven processes, businesses are looking for ways to stay competitive in an ever-evolving landscape. This is where Microsoft leads the way with innovative solutions designed to empower companies to make data-driven decisions.
One solution Microsoft offers is Microsoft Sales Copilot – a revolutionary tool poised to reshape the future of sales and customer insights.
With Microsoft Sales Copilot, businesses can leverage powerful machine learning algorithms to gain valuable insights and optimize sales performance. Continue reading as we delve into what Microsoft Sales Copilot is. As well as how it is revolutionizing the world of sales and customer insights.
The Birth of Microsoft Sales Copilot
Microsoft Sales Copilot is the latest addition to the company's robust portfolio. It was officially introduced in July 2023. It represents a significant leap forward in leveraging AI and machine learning. It's explicitly designed to enhance sales processes and customer engagement.
Built on the foundation of Dynamics 365 Customer Insights, Microsoft's leading platform for customer data unification and actionable insights, Sales Copilot combines the capabilities of Customer Insights with cutting-edge AI-driven features. This results in a comprehensive and intelligent solution that empowers sales teams to excel in customer engagement and relationship management.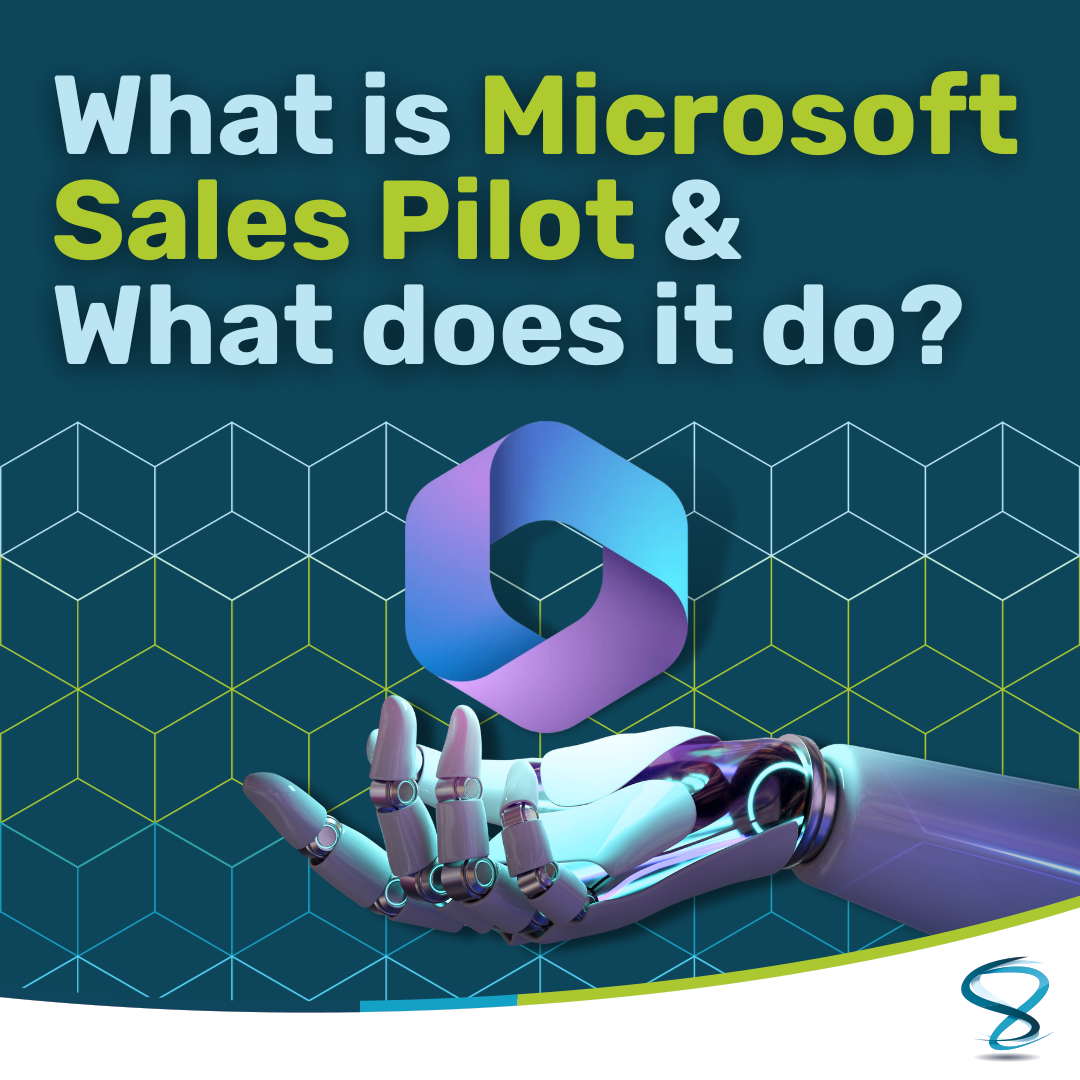 What Can Microsoft Sales Copilot Do?
Personalized Customer Insights
Personalized customer insights is one of the core features of Microsoft Sales Copilot. It achieves this by leveraging AI and machine learning to analyze various data sources. This includes:
Customer behavior
Buying history
Customer interactions
By aggregating and processing this data, Sales Copilot saves salespeople time. It can provide sales professionals with a 360-degree view of their customers. As well as help them understand preferences, needs, and potential pain points.
AI-Driven Recommendations
Sales Copilot doesn't just stop at providing insights. It goes a step further by offering AI-driven recommendations. These recommendations guide sales teams in their interactions with customers.
For example, the tool can suggest things like:
The most appropriate communication channels
Timing for follow-ups
Tailored, client-specific content recommendations
This level of personalization enables sales teams to engage with customers more effectively.
Enhanced Collaboration
Collaboration is a cornerstone of successful sales processes. Sales Copilot recognizes this by facilitating collaboration among team members. It provides a centralized platform where sales professionals can do things like:
Share customer insights
Discuss strategies
Collaborate on deals
This improves internal communication and maintains sales team alignment for effective customer engagement.
Predictive Analytics
Predictive analytics is another powerful aspect of Microsoft Sales Copilot. The tool analyzes historical data and customer behavior patterns. This allows it to predict future customer actions and trends.
This empowers sales teams to make informed decisions. As well as addressing customer needs proactively instead of reactively.
Seamless Integration
Sales Copilot seamlessly integrates with other Microsoft tools and services. This creates a unified ecosystem. This integration allows for a smooth flow of data between applications. It eliminates the need for manual data entry, reducing the risk of errors.
In addition, Sales Copilot consolidates all customer interactions and data. Centralizing customer information improves accessibility and facilitates in-depth analysis.
Cloud Migration Program
Besides Sales Copilot, Microsoft also introduced a game-changing cloud migration program in partnership with Dynamics 365 Customer Insights. This program aims to simplify migrating customer data to the cloud. The integration of Sales Copilot with this program further enhances its capabilities. It does this by providing access to a wealth of cloud-based data.
How Does Sales Copilot Benefit Your Business?
Microsoft Sales Copilot holds immense promise for businesses across various industries. It enables sales teams to work more intelligently and efficiently. The tool has the potential to drive revenue growth and enhance customer satisfaction. Here are some ways in which Sales Copilot can benefit your business.
Improved Customer Engagement
Personalized insights and AI-driven recommendations have many benefits. For one, they enable sales professionals to engage with customers more meaningfully. This can lead to higher conversion rates and increased customer loyalty.
Streamlined Sales Processes
The tool's predictive analytics and collaboration features can streamline sales processes. It can make them more efficient and effective. This, in turn, can reduce the time and effort required to close deals.
Data-Driven Decision-Making
Sales Copilot provides access to a wealth of customer data and insights. This empowers businesses to make data-driven decisions. This can lead to better-targeted marketing campaigns, product development, and customer service strategies.
Enhanced Competitive Advantage
Businesses that leverage Sales Copilot can gain a competitive advantage. It helps them stay ahead of customer trends and needs. This can be particularly valuable in fast-paced and competitive industries.
Scalability and Flexibility
Microsoft's cloud-based solutions, including Sales Copilot, offer scalability and flexibility. This allows businesses to adapt to changing market conditions and customer demands.
You Don't Have to Face the AI Frenzy Alone
AI and machine learning are transforming business tools rapidly. This can cause business owners to worry about falling behind competitors. You don't have to figure this all out yourself. We can help. Give us a call today to schedule a chat.
About Solve IT Solutions
Solve IT Solutions, LLC offers relationship-based technology solutions to more than 150 small and midsize businesses in eastern Pennsylvania. From the Company's inception in 2000, the principal Troy Kantner saw a need for affordable IT solutions with an understandable approach. Today, Solve IT Solutions has grown to provide a full line of services that meet those needs. Offerings by Solve IT Solutions include managed and co-managed IT services, business continuity and disaster recovery services, network solutions, data center offerings, network security and assessment, data migration, cyber security, and more. Solve IT Solutions, LLC has been recognized as a Channel Futures MSP 501 2021 Winner. Solve IT Solutions, LLC is located at 501 N. Park Road, Wyomissing, Pennsylvania.