Be productive anywhere by converting to Microsoft 365. Solve IT Solutions can help you with implementation, migration and administration of Microsoft 365 at a price your business can afford. Demonstrate long-term savings by eliminating hosting of your own email server and taking advantage of applications such as OneDrive, SharePoint and Microsoft Teams.
Microsoft 365, offered by Solve IT Solutions, has all the tools your business needs to work more efficiently. We are here to help people and businesses achieve more with innovative Office apps, intelligent cloud services and world-class security. Get all the tools your business needs including: Word, Excel, PowerPoint, Publisher, Access, Outlook / Exchange, and Office Web Apps. Microsoft 365 can be installed on up to 5 devices. 


GET A COST-EFFECTIVE SOLUTION
Streamline IT setup, management and costs with a single productivity solution. Solve IT Solutions will help you improve user productivity, save on automation/IT costs and reduce cost of security risks. BE PRODUCTIVE ANYWHERE
Get work done and stay connected whether working remotely or onsite. Microsoft 365 allows businesses to share documents in the cloud and collaborate using Office apps. Empower your employees to work from anywhere. SECURE YOUR BUSINESS
Solve IT Solutions can help you safeguard business data with built-in security features. Microsoft 365 allows you to defend against cyberthreats, make customer data more secure, help secure your devices, and manage users and devices.
Signature Management with the
Exclaimer Signature Management Cloud

Business standards take many shapes, email formatting is one on the forefront. Having your employees email signatures with the same formatting and written with consistent company messaging shows continuity among your team. You can easily deploy a consistent email signature with Exclaimer Signature Management Cloud, offered by Solve IT Solutions.
Exclaimer Signature Management Cloud
Exclaimer Signature Management Cloud provides centralized email signature management for your entire organization. Transform the process of email signature management, allow email signature designs, banners, social media icons, and legal disclaimers to be created and deployed to all users with just the push of a button through one intuitive web portal.
Built for Microsoft 365 and Google Workspace, the cloud is intuitive and easy to use, requiring no coding or HTML skills. You can be rest assured when sending an email from a PC, Mac or even a mobile device while using Exclaimer Cloud that you will always have a full, dynamic and professional looking email every time. EXCLAIMER ADVANTAGE
Create templates in minutes using advanced drag-and-drop editor that requires no HTML skills to use.
No longer rely on individual users to update their email signature templates, maintain consistent company branding and minimize human error.
Significantly reduce strain and dependency on IT resources.
Make changes quickly and at short notice based on the needs of your company.
Signature updates are simple, easy-to-manage and won't interfere with other IT tasks.
Easily create different email signatures for different groups within an organization.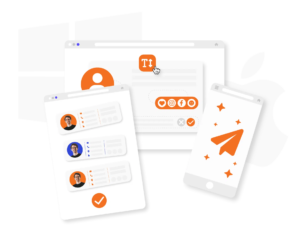 When you use Exclaimer Cloud you will always send full, dynamic and professional looking emails from PCs, laptops, Macs, Apple phones, or Android phones.
STAY UP-TO-DATE
Do you want to keep up with the ever-changing landscape of Cyber Security and
digital technology as it happens? Sign up for our emails today!