BUSINESS RECOVERY SERVICES
Your Data is Your Most Valuable Asset and Your Most Vulnerable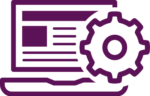 Why You Need Protection
It takes only one cyber event, security breach, fire, flood, or even a spilled glass of water to impair your company's ability to function and lose crucial data. How long can your business remain offline before the lost productivity and revenue become a serious threat?
Accidents and attacks are inevitable. Downtime and data loss don't have to be!
Solve IT Solutions has ways to keep your business running during these difficult times. It all begins with an All-In-One Business Recovery Platform.
All-In-One Business Recovery Platform includes:
Convenient and accessible backups and restoration with minimal effort

Disaster recovery with multi-device and multi-site failover as a member of Datto's Global Partner Program

Ransomware Protection
Your team consists of Cloud users only?
Solve IT Solutions has a plan for Microsoft 365 or Google Workspace users too.
Whether it's ransomware, application, end user, or administrative error, Solve IT Solutions can find and restore what you need quickly and efficiently. AUTOMATIC DATA BACKUP DISK IMAGING MULTI-SITE BACKUP

CONVENIENT & FAST RECOVERY
STAY UP-TO-DATE
Do you want to keep up with the ever-changing landscape of Cyber Security and
digital technology as it happens? Sign up for our emails today!