Fast, Secure, and Reliable Tailored Networks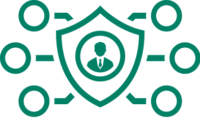 You need to protect your business systems and keep critical data safe. A firewall is your first line of defense. Connecting your network to the internet without the proper protection leaves your business open to security issues and cyber-attacks. The time is now to plan your protection.
Tailored networks for your business – whether you are looking to upgrade your network or are starting at a new location, Solve IT Solutions has a network solution for you. We will analyze, budget and recommend a cost-effective solution that meets your needs and requirements.
Speed, security, reliability, and range – which one of these is not important to you in a wireless network? If you're not investing in the correct hardware and installing it correctly, you're compromising at least one of these elements, and possibly all of them.
Your data cabling keeps people talking, information flowing and business thriving. Voice and data network cabling is out of sight and out of mind until something goes wrong. More than 65% of network failures are caused by poor quality cable, connectors and installation. We take time and care to install all our cabling to industry standards. FIREWALLS & NETWORK LAN/WAN

WIRELESS SOLUTIONS

CABLING SOLUTIONS
STAY UP-TO-DATE
Do you want to keep up with the ever-changing landscape of Cyber Security and
digital technology as it happens? Sign up for our emails today!